Ainsley's food is a familiar sight both in UK and Australian supermarkets, and offers a quick and easy solution to cooking for the home. Ainsley shares his food inspiration through recipes on his website, cookbooks and many magazine features.
Served Magazine meets up with the man himself who speaks about his childhood memories, extensive career as well as his recent visit to Malta and Gozo.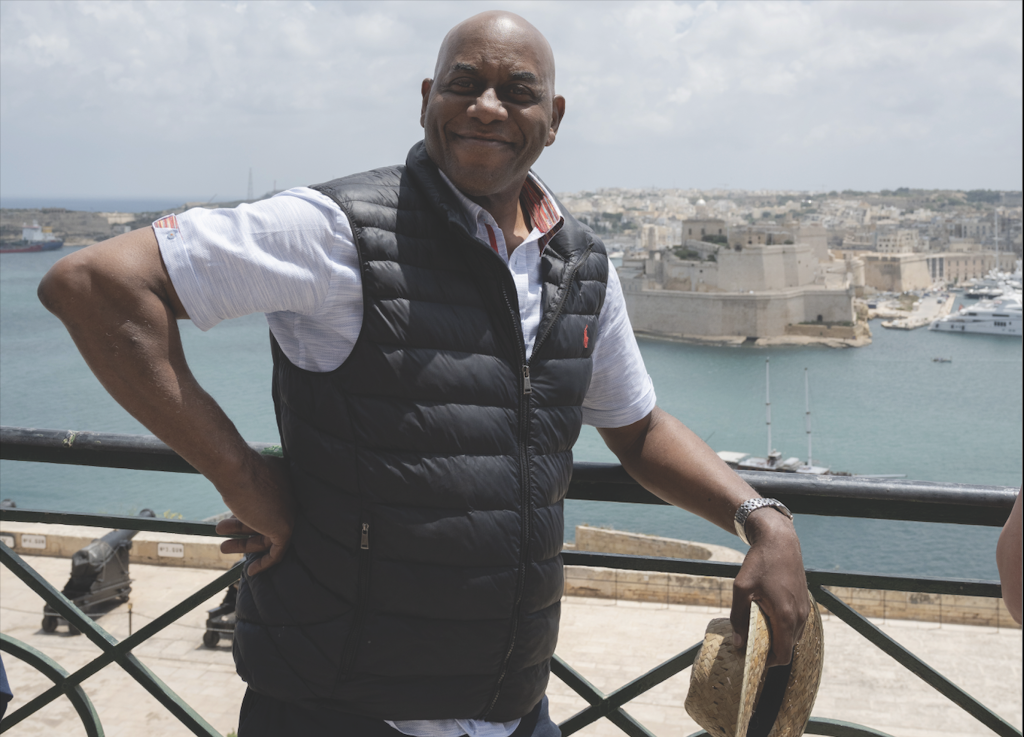 What was food at home like when you were growing up – and were your passions for food and cooking influenced by your family or upbringing in any way?
Food was a very important part of my childhood – my mother, Peppy, was a great home cook. Watching her serve up delicious food to friends and family and seeing the pleasure it brought to them all is when my love of cooking started. Our kitchen was a happy and busy place, full of laughter and music and we always had plenty of people joining us at mealtimes. Mum would always be serving up something tasty – her oxtail or red pea stew with dumplings were fantastic and the kitchen was always full of wonderful smells from something bubbling away on the hob. She didn't follow recipes though – it was always a handful of this or that! Us kids were always encouraged to cook, and I have wonderful memories of helping with the baking. Her freedom and generosity in the kitchen rubbed off on all of us.
What other experiences in your youth influenced the relationship you have with food today?
I was lucky to have friends from different countries growing up so I was introduced to a variety of cuisines from an early age – our Polish neighbours would bring us some tasty
treats and my mum would reciprocate with some Calypso Chicken. I went to France when I was 16 and stayed with a French family for the summer. I learnt a lot about food and cooking from them – the father taught me to fish, and I would go to the market to shop for fresh produce with the mother. It was great. By the time I came back home I knew I wanted to be a chef.
As an advocate for 'good MOOD food' – how would you define it? And how have your views changed, if at all, over the years?
As I say in my book, 'Ainsley's Good Mood Food', food doesn't need to be fancy; if it's made with love and passion, it will always bring some happiness – even if it's just the enjoyment of making and sharing a meal. My joy in cooking and eating hasn't really changed over the years although I think I've become more mindful of health and perhaps watch how much I eat, but good food to me has always been about fresh, seasonal produce and, of course, fabulous flavour.
What was your experience working in restaurant kitchens like? How did the experience compare to working in television?
It was hard work and when I started out the pay was pretty poor. My first job was at Verrey's – a French restaurant on Regent Street. I was given all the awful jobs and put under a lot of pressure, but it was great training and I learned so much. I then went on to work at The Strand Palace, The Westbury and others before starting my own catering company. That was an exciting time – one day I was cooking posh nibbles for Elton John and another I'd be making steak and kidney pudding for royalty. I've worked at every level of the catering business which I think has worked in my favour for TV. You have to be on your toes when cooking on TV as you never know what will happen – whether it's live and something isn't working or if you're away filming and you can't get the ingredients or equipment you need – you always have to adapt on the spot. I also get to perform to an audience which, to me, has always been a big part of what cooking is about. It's about sharing….and a little bit of dancing.
"AS I SAY IN MY BOOK, 'AINSLEY'S GOOD MOOD FOOD', FOOD DOESN'T NEED TO BE FANCY; IF IT'S MADE WITH LOVE AND PASSION, IT WILL ALWAYS BRING SOME HAPPINESS"…
Through the work that you've done and still do, be it hosting tv shows or writing books – what are the key messages about food and cooking that you want to get across?
Obviously, flavour is important, and I like to use fresh, local and seasonal produce as much as possible. Using fresh and good quality ingredients is the best way to ensure great flavour. As I've already touched on, food is about sharing and bringing people together. You can't beat spending time with friends or family enjoying good conversation and sharing a meal. Cooking should also be fun and joyful – whether it's the enjoyment of making the food, sharing the food or eating it.
You recently visited Malta – what was your experience of our island/s and did you get to sample some local food during your stay?
Visiting Malta and Gozo was a fantastic experience. The people we met were so lovely and friendly and really made us feel welcome. Filming with local producers and chefs we got to sample plenty of fresh Maltese produce – the cheeses in particular are fantastic. I was also lucky enough to have people cook traditional dishes for me – I loved the puddina at Barbetta Bakery and enjoyed a delicious rabbit stew made by Michael Diacono and the fabulous Rita. You also have some exciting top-quality restaurants on the island and we enjoyed some wonderful meals on our trip. I don't want to give too much away before the programme airs, but we've included a real mix of traditional and modern Maltese food, some dishes with an Ainsley twist and lots of fun around the islands.
What's in the pipeline that you're exciting about sharing?
It's a busy time before the Malta series airs early next year. I'm currently filming a new series
for UK TV, writing recipes and getting ready for the summer food festivals. I'm also expanding my Ainsley food range in UK supermarkets which is very exciting.