The ever-growing popular Halloween is here and many of you have got no choice but to join in on the spook and fun that comes along with it. 
So we did a little find for your upcoming Halloween events that will spark your creativity. Whether you're hosting a party or joining the kids for the trick or treat rounds these ideas will save you money, get crafty (great activities with the kids too!) and reduce your waste. 
Halloween Candy Ideas – Trick or Treat? 
Instead of buying the usual plastic wrapped, sugar filled sweets, this year try out some DIY Halloween themed candy that everyone will love. 
Fun to make with your kids and a perfect treat for them to take to school or for you to take to your workplace! 
Ideal for teachers' gifts, gifts to colleagues and friends. Try out these recipes like Peeps in a jar, Halloween candy bouquets and crazy candy people. 
Zero-Waste Candy 
Keep your waste and packaging down to a minimum with these zero-waste Halloween candy. Look for sweet ingredients from bulk sweet shops that you can buy by weight. Here are more plastic-free treats.
DIY Halloween Decorations 
Decorate your home with some frightening DIY crafts to join in the fun and welcome your enthusiastic trick or treaters with some spooky surprises!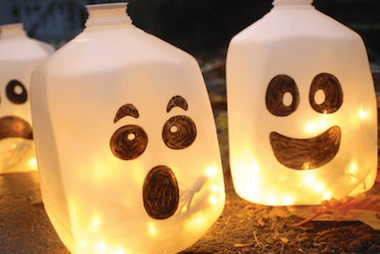 Ghostly lanterns https://www.rd.com/home/decorating/cheap-halloween-decorations/
Paper Bag lights, floating ghost, black cat lanterns – https://www.diyncrafts.com/3263/decor/40-easy-to-make-diy-halloween-decor-ideas

Mummify your front door https://www.hgtv.com/design/make-and-celebrate/handmade/our-55-favorite-halloween-decorating-ideas-pictures
DIY Halloween Costumes
A rush of nostalgia hits remembering the many white sheets we took from our mums closet to make ghost costumes! Check out these Killer Halloween Costumes you can make with a box and other upcycled materials for an epic Halloween costume for you and your kids!  
What are your plans for Halloween? 
These ideas have inspired us to get baking scrumptious sweets and craft some terrifying surprises for our youngsters doing the rounds of "trick or treat"!